Backyard Terrors Dinosaur Park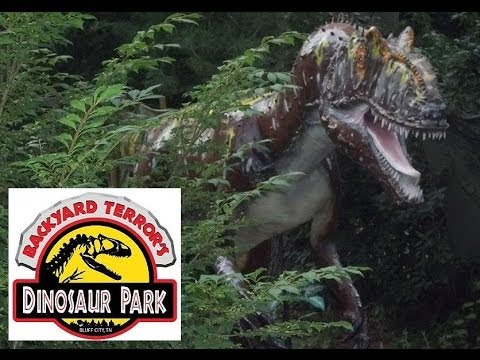 "Your scientists were so preoccupied with whether they could that they didn't stop to think if they should." – Dr. Ian Malcolm (Jurassic Park)
Machines and dinosaurs. Two very dangerous subjects but together make a very safe and collaborative effort to educate the young generation. Dr. Ian Malcolm has his points, but people today focus on the facts and history rather than the dangers.
Bluff City, Tennessee, is home to one of Tennessee's first dinosaur parks, Backyard Terrors and Dinosaur Park. Owner Chris Kastner created this donation based attraction to help try and inform children of the history of dinosaurs, and make sure they have a good time while learning. Kastner came up with the idea around four years ago, and when the time came, he and a few close friends started to build the dinosaurs. Donations are only collected to help make his park come alive. When someone donates, the funds automatically go to the building of another brand new dinosaur.
"I think that a dinosaur park would be a great idea. Because it would offer us kids something more to do than a normal park. It would also be a great attraction for everybody in the county," said Michael Stout (11).
Overtime, a fossil dig area and gift shop have been developed from the overwhelming support from visitors, sponsors and patrons. Backyard Terrors and Dinosaur Park is continuing to grow to this day, a new dinosaur being added every few months. There is a go fund me website to help with donations to keep the park open and running. As of now they have reached twenty-six percent of their twenty-five thousand dollar goal. Kastner hopes to continue to build his park and make it more fun and educational over time.