A Sinkhole on Alcoa Highway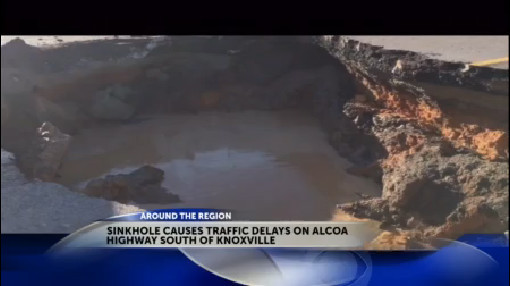 On January 23rd, Alcoa Highway closed due to a massive sinkhole that opened up in the highway. The sinkhole measured 15 feet deep.
The sinkhole happened in the morning while people were on their way to work. As the sinkhole started to spread people became frantic. Thankfully, the sinkhole did not hinder the people driving south.
A sinkhole is when a heavy weight is put on soft ground with a very brittle base, thus causing the ground to sink. A sinkhole can also occur when there is a change in the ground so that it is no longer stable in that specific spot.
Sinkholes can be extremely dangerous as they spread. Many high school drivers may not be so sure on how to handle this situation.
"If I saw a sinkhole, I would turn around and go home," said Thomas Seiter (9).
That is how one would expect most people to react when seeing a sinkhole in the middle of the highway. Honestly there is not much more to do when seeing a sinkhole besides making sure someone is on the scene and finding a new route to get to where you need to go.
Though this is not the first sinkhole we have seen, a while back there was a sinkhole that opened up in front of Cinco Amigos in Lenoir City. I guess you could say sinkholes are pretty normal around Lenoir City and Knoxville.
It did not take long to get the sinkhole fixed, as of this moment the sinkhole is filled and no longer a problem.