We Didn't Start The Fire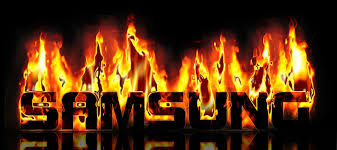 The Samsung company has produced many products, including their world-renowned smartphone. They've marketed various models, including the Samsung Note 7. This particular model has had some consequential problems lately.
Samsung customers have been experiencing dangerous incidents that have hindered the sales of said phone. This includes spontaneous combustion, electrical fires that occur while charging, and even explosion. Samsung's mobile president Koh Dong-Jin warned customers to immediately return their phones. Some of these consumers have not been very fortunate.
On Monday, September 12, a man named Nathan Dornacher experienced one of these tragic incidents. Whilst charging his phone through his car, Dornacher's phone exploded, causing the Jeep to combust. Though no one was injured in this mishap, it is still a high chance that any other Samsung consumer could be harmed with this device.
As a Samsung user, it's quite scary to imagine that a device similar to mine could be at risk of these flukes. Upon receiving this news, I have been very reluctant on whether or not I should upgrade my phone. If these issues are fixed, I might still be uncertain, but I have high hopes that these issues won't be present in any future phones produced by Samsung.
Sources: http://www.latimes.com/business/la-fi-samsung-galaxy-fires-20160910-snap-story.html
http://www.telegraph.co.uk/technology/2016/09/12/exploding-samsung-note-7-sets-jeep-on-fire-how-to-check-your-pho/