The Trump Climber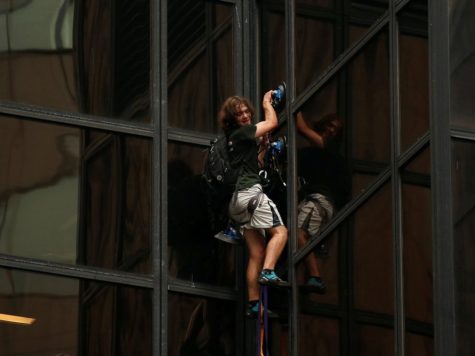 The most talked about thing in today's everyday life here in the U.S. is the presidential elections. On August 11, 2016 around 3:30 p.m., a man of the name Stephen Rogata decided it would be a great idea to start climbing the Trump Tower.
Rogata is  a 19-year-old Trump fanatic from Virginia, who wanted to get a message across to Trump. Rogata acquired suction cups and started climbing the tower. Once he was on the 21st floor, the NYPD grabbed him and yanked him inside.
They took him to the Bellevue Hospital in Manhattan for psychiatric evaluation. They are not sure what charges he is going to have for the stunt he pulled. His backpack did contain many different identifications, so he could have gone by many other different names.
"Great job today by the NYPD in protecting and and saving the climber," Trump tweeted. Rogata had posted a video later on YouTube talking about why he climbed the tower. After all of that, he got what he wanted: he went viral, and was noticed by Trump.
Citation
Shrier, Adam, Laura Dimon, John Annese, and Denis Slattery. "SEE IT: Donald Supporter Scales Trump Tower with Suction Cups." NY Daily News. N.p., 11 Aug. 2016. Web. 23 Aug. 2016.