Healthy Competition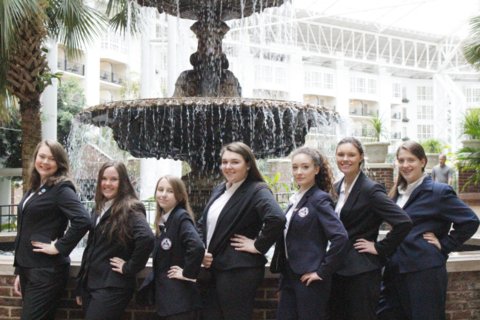 Over spring break the students here at Lenoir City did everything they had planned. Some of them went to the beach, camping, or maybe even just stayed home and watched Netflix. But for five members of the H.O.S.A club their break was spent together competing at the regional competitions in Nashville.
H.O.S.A stands for Health Occupational Students of America, and many students who plan to have a future in the health science world are apart of the club.
These competitions have several events at them such as H.O.S.A bowl. They also feature a series of knowledge and skills tests over EMS, epidemiology, pathology, and various other fields in the health career.
Five girls went to the competition: Macy Capooth (11), Crystal Bostic (11), Briannon King (11), Carmen Byerly (10), and Jordan Reed (12). Where they represented our school, and themselves in the competition.
Reed-who took fourth for the epidemiology test- was surprised to place.
"I didn't even expect to place. The test was two hours long and I used most of that time, and afterwards I was feeling awful about it, but I placed fourth so I'm pretty proud of myself," said Reed.
This was Reed's first year competing, as well as traveling to Nashville.
"It was a great experience, I loved being with the girls I went with and Mrs. Miller, it was a lot of fun. It was my first time going to a competition and Nashville, and it was a really good experience," said Reed.
Reed after graduating plans on going to UT and majoring in pre-med, and then later enrolling in medical school to become a doctor.
Although none of the girls placed in the top three to make it to nationals, the community is still proud of them.
As this experience will continue to serve them as they go through their lives in the health science career.