Making Our History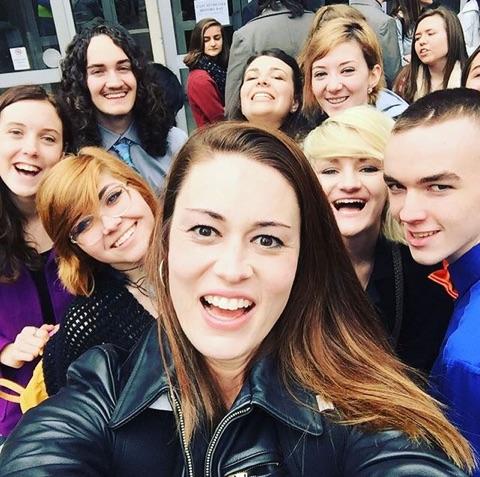 Every year history comes alive in the annual competition adequately titled National History Day. Since its establishment in 1974, the competition has put history back into perspective for many of America's younger generations.
Through hard-work and research, many of the projects can even go on to change history (as in the case of one project that was done on the Mississippi Burning Case that was once closed but was reopened by Congress after reviewing some of the material from the project, from which convicted the true murder).
Students from across the country compete, including the A.P. U.S. History students here at Lenoir City High School.
The students in Mrs. Frazier's A.P. U.S. History class were introduced to this year's theme Exploration, Encounter, & Exchange, and worked on either a documentary, paper, skit, website, or an exhibit for the past few months to perhaps have it rewarded on the actual day of competition.
On Friday March the 4th, they off from the school not to long after 8:15, and made it down to Knoxville where they set up to compete. Each student was in different part of the building (or another building) as each was set up to present at different times.
Which became a problem once the fire alarm went off in the Knoxville Convention Center, and everyone had to evacuate the building. Everyone was fine with no actual fire present, and the competition went on as normal.
After everyone had presented, the groups went down to Market Square and enjoyed lunch in downtown Knoxville. Very happily singing Vanessa Carlton's A Thousand Miles as they did so.
Once lunch was over, the group headed back down to the Tennessee Theater to receive awards. And boy, was their hard work rewarded.
In the group documentary category Trevor Good (11), Seth Gates (11), Ethan Stroud (11), and Matt Brennan (11) took home first, with their project detailing the Lewis and Clark expedition. Also in this category Jessie Wall (11), Alina Cirstea (11), and Kayli Martin (Hi) took home third for their project which explored the exchange of cultures from the Olympics.
Trevor Good was overwhelmed with the win. "It was an awesome experience. Knowing that you worked hard on a project and then being rewarded over other projects that were also really well done, and getting the opportunity to continue this to state level is going to be a great experience. I'm really blessed for this," said Good.
In the individual performance category Ian Mclain (11) won silver for his monologue on the hard-ships on the California Gold-Rush. Then on group performances Meredith Matteson (11) and Maria Urias (11) took home first after their talk-show type performance won over the judges.
In group websites Bethany Poff (11) and Eric Hall (11) were awarded bronze for their website. Lastly, Maddie Brookshire (11) was awarded bronze as well for her paper.
At the end of the day everyone was well pleased, and excited.
For Good it was just a day with his closest friends, and bond with them in a way never experienced before. " I mean the AP crowd has been in many classes together for several years, and it was a good time to spend a day to get closer to those people that are in your classes everyday that you may not always talk to and develop relationships with them," said Good.
The ride back to the school became nothing but a chorus of badly-sung pop-songs from a bunch of AP students. But nobody cared.
After all they just got done making history, not just in their projects and awards. But by bonding in a way a classroom never could have brought them.