Mindspeak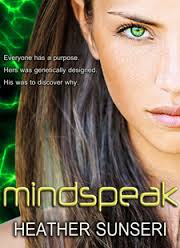 You can call me old fashion but I like to actually hold a book when I'm reading. I'm not big on staring at my phone screen or a computer screen while enjoying a good book. When I was just browsing through books on the app store to just see if I would like any. I came across a book called Mindspeak by Heather Sunseri. Since it was free and I was in search for a new book to get my hands on, I gave in to my old ways and downloaded the book to my phone.
Mindspeak explores the mysteries of life. It starts out with an ordinary girl at swim practice but by the end of the first chapter, it turns out to unfold a whole new mystery about her and her friends.
Lexi is one of the main characters along with Jack, who is just as mysteries and open minded as she is.  Lexi, Jack, and a few others have powers–not like flying or teleporting, but things like reading minds, or healing bones. Throughout the story they try and find out why and how they were created.
This book is fiction, but it does mention events that you may be familiar with. In the beginning of the book it clearly states who is good, who is bad, and who is undetermined. Nothing prepared me for the twist that came along with each and every chapter.
This book includes mystery, romance, science fiction, and a little bit of reality. Sunseri did a phenomenal job making you think about what may or may not be out in the world.
I haven't read any of Heather Sunseri's books before, but I'm really glad that I read this one. She never gave away too much at one time. She kept you on your toes while you read through each sentence. She made sure that you would come back for more too. The ending of the book just leaves you with a mystery. Sunseri did a great job to make sure the ending was just enough to get you wanting to read the next book in the series.