Bad Daddy's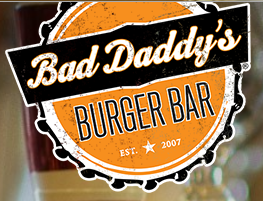 Last weekend I went to a burger joint in Turkey Creek called Bad Daddy's . The atmosphere of the place was happy and welcoming. It also had a sports vibe to it. I dined out on their outside patio which had outdoor heaters that were amazing.
Their food was a little different from your average burger place. There menu was small, but they had the option where you could build your own burger / chicken sandwich. I decided to build my own chicken sandwich. They offer many different toppings–the normal things like lettuce, tomatoes, mayo, but they also had things like deep fried bacon and onion straws.
I tried the deep fried bacon. It was crisp and full of flavor, however, it was very greasy, especially on top of a deep fried chicken patty. My sandwich tasted amazing, but my fries were cold. The service was fairly fast but a little un-organized. They had to have a different person serve us our food and when my mom found something wrong with her's they were not sure what to do because they were not our waiter.
The overall experience was nice. The people that work there are very friendly. The down fall that it is very pricey for everything on the menu. It is the type of place to go if you are catching up; not your go to spot. I would definitely go there again, but not any time soon.