A Band Kinda Party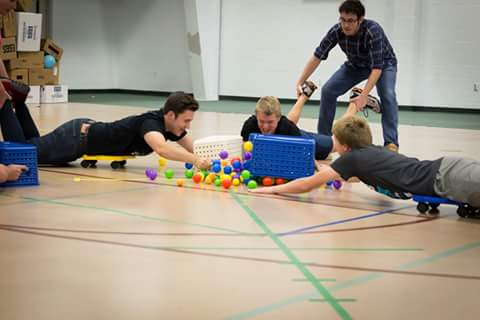 Many here at Lenoir City know of the marching band that performs at LCHS's games and  competitions. What happens at the end of the marching season is what many do not know.
Once the marching season is over and the band transitions into concert band, a party is thrown to celebrate the hard work of the year. Where and what is done at this party changes from year to year as the band votes on what to do.
This year the band had picked a simple bonfire and games for the party. Unfortunately–due to rain–the bonfire had to be canceled and the celebration itself was moved into the gym at First Baptist Church.
Many of the band students were upset over the change and wondered if it would be a success. These doubts were swept away, however, as the games and party began on Saturday night and many began to have fun.
One of the students who enjoyed himself was Logan Fritts (10). "It was a whole lot of fun- it was one of the best parties I have to been to,"said Fritts.
From a giant Jenga game to a live-action Hungry, Hungry Hippos, the games made the night. "The Jenga game was funny. Especially when Mr. Huff came and almost knocked it over," said Fritts.
The most remembered part of the night had to be the Senior speeches. The speeches are normally given during a practice, but this year it was decised to be done at the celebration. The speeches given to just the underclassmen and the directors as a thanks and goodbye for the past four years.
Tears and laughter were both shed, which combined into an unforgettable night. Even with the unplanned change. Fritts feels good about it all the same."Frankly, I don't care if the band is having a party. I'm going," Fritts said.
As the final goodbye to the marching season came to a close, talk of the next was close to follow–with it being just as exciting and rewarding as the last.