Murder Comes to Town
Mr. Orr got contacted about using the facility [LCHS] for a TV show. He was not aware of the actual show name, but he did know the name of the studio–"Lucid" based in Knoxville.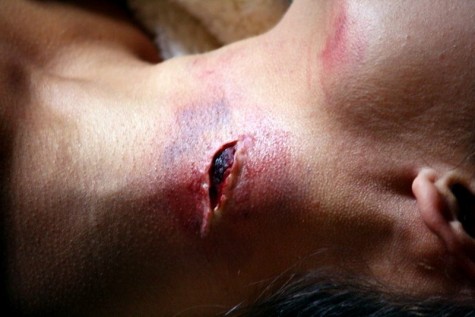 Mr. Orr's contact, Nathan Brown, asked if he could use a science class to look like a morgue, but Mrs. Harris told him that there was actually a health science lab that could possibly be used. She showed them the lab and they absolutely loved it.
Murder Comes to Town, based off of true events, is a show that airs on Investigation Discovery. Actors reenact how the murder happened. The shows are shot in small towns across America.  Murder Comes to Town–you might not take seriously–but for Wendy Miller, the Health Science teacher, it was very real.
On November 3, 2015, the directors and producers from this TV show arrived right when the students were released from class for the day. They were wearing jeans, black shirts, and had walkie-talkies with headsets in their ears, which could be very terrifying if you do not know what is going on. "What is going on?! These are not students…Is it my time to die?" went through Miller's head as these people were walking around the hall.
Miller was not informed that her lab was being used for this filming, so when they walked in her room to get to the lab, she was very surprised. Miller escorted the crew into her lab ( there were over 100 people!)  and let them use whatever they needed to make it look real. She let them use a gournis, masks, protective goggles, scalpels, and anything else that seemed necessary.
"Everyone was so impressed about the lab and the producer even said 'Wow I can't believe Lenoir City has such a great health science program and lab. Everywhere we've been, there's never been anything like this' and that made me feel great about what we have accomplished with this program," said Miller
Before they started shooting, the producer asked Miller if she wanted to be in it and do something, but Miller said no and that she would just watch.
"Man, I missed my big chance to be on TV! That is most definitely on my bucket list!" said Miller
Not only did they shoot in the lab, they shot in Mrs. Harris' office, on the football field, and the conference room for the show.
The filming took so long it was even catered.
"Everyone invited me to eat with them, but I turned them down because I didn't want to seem like a crazy fan." said Miller
Of course all of this was overwhelming and awesome at the same time for Miller. "The coolest part of the whole night was when he said 'Action'," said Miller.
When they finished shooting and they were packing up, everyone thanked Miller once again. Then Miller started talking about how real the moulage looked and that there is an Emergency Medical Service class that does a big fake accident and has different kinds of moulage, and she said that they could possibly come back and help out with the moulage for that day.