Pumped up for the pep rally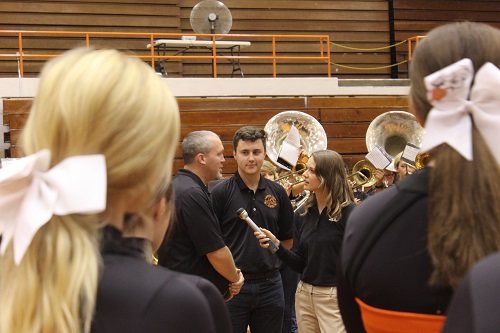 One thing students hate most is waking up early– especially when it's 5:30 in the morning.
However, this is just what the Lenoir City High School cheerleaders, band, and members of the student section did on Friday morning to cheer on their football team. Students met in the gym at 6:00 a.m. to take part in an early-morning pep rally.
WBIR sent a reporter and cameraman to the school to broadcast the rally live. Several people were given a short interview at the rally, including cheerleader Taylor Moore (11), drum major Andy Thornton (12), and several pumped-up students who were decked out in their orange and black.
One student, Noah Rittenhouse (11), even wore a full orange body suit. He carried the Spirit Sword with him and waved it in the air every time the camera was on.
"I loved the atmosphere. It was a fun way to kick off my Friday morning," said Rittenhouse.
The band played several stand tunes and the cheerleaders performed some of their well-known cheers. At times, all of the groups would stand together in a large crowd and scream to show just how peppy they were.
Throughout the morning, tired students downed coffee, sweet tea, and energy drinks– anything to keep them up and moving. Around 8am, the band and cheerleaders were fed Bojangles biscuits and allowed an extra fifteen minutes to get to class.
Everyone was quite exhausted after having to wake up so early, but each person put their game faces on as they do every Friday night. They treated it just as they would any other performance, and put forth all of their effort, giving forth an air of intensity.