The Gnomie G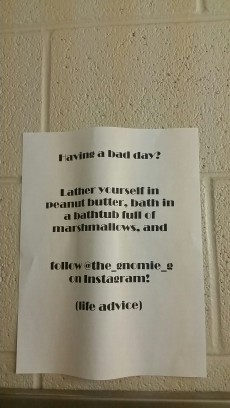 If you've used the girls' bathroom at the school, you've probably noticed some very strange signs in the stalls, which appear to be advertisements for an Instagram profile, "the_gnomie_g".
Some of the advertisement slogans the anonymous person has used include "Don't be a horseradish. Follow @the_gnomie_g on Instagram!" or "Need to hide a dead body? Of course you do! Hide it inside Chuck Norris".
"The signs got people talking," said the owner of this profile, who asked to remain anonymous. The signs were posted on the inside of the bathroom stalls rather than the hallways because it was easier for the person to remain incognito.
The poster directs you to the profile as a life advice page, where they apparently give the best advice available. You can direct message the page and ask them for advice.
The bio of the Instagram page reads, "Follow 4 inspiring quotes guaranteed to make you rethink life".
Isabel Powell said "I thought they were funny, I think it's a good idea for promoting the page". She was confused as to why they were put in the bathrooms, though.