Mi Jalisco
More stories from Sammie May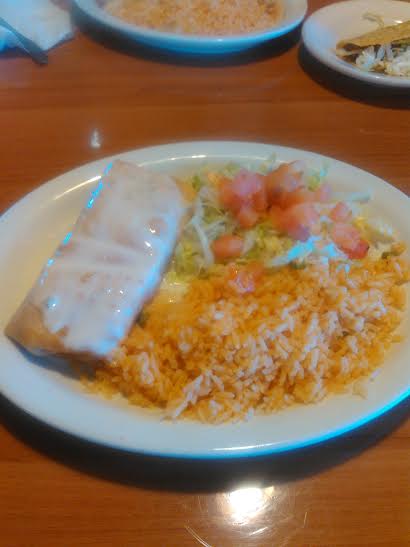 The old Long John Silver across the street from Hardy's is now a restaurant called Mi Jalisco. It has been open for about three months now. The food is great and you get your money's worth– it's not that expensive. If it's not busy then you get to choose where you would like to sit. They already have the table set up so the only thing they need to bring you is your menu. They bring free homemade salsa and chips to your table along with your drinks that you ordered. I had a chimichanga which is a stuffed tortilla with a choice of chunks of beef, chicken, or ground beef then is deep fried to golden brown; it is then topped off with white cheese sauce. For sides it comes with rice or beans, lettuce, sour cream, and guacamole. It was only $5.99 for all of that.
I chose to have the pulled chicken, with no sour cream, guacamole or beans. When it came to the table I was very amazed at how much food I got for that price. My first thought was, "Oh this won't be any good because it only took 10 minutes to come to the table," but I was proven wrong! When they set it down on the table, I saw how good it looked and smelled. When I took the very first bite I was amazed at how well all of the flavors worked together. The white cheese sauce on top really enhanced the flavor of the chicken. The fresh lettuce and tomatoes really did make the dish better, to have that fresh quality hit your taste buds after the hot but not spicy chicken was an incredible feeling. I personally mixed my rice with my chimichanga to give the rice a little bit more flavor. The food was so amazing it only took me and my family 20 minutes to finish everything on the plate.

Now the restaurant does have pricey things on their menu, so you have to pay attention to what you order. The most expensive thing on the menu is a special Tapatia #3. This includes fajitas with shrimp, chorizo, chicken, and steak, served with rice, beans,and tortillas, and it costs $20.99, but other then that everything stays under $13.00. The restaurant itself was great. It is very organized and clean. Everyone was very polite, and the employees had a conversation with everyone at the table. I would recommend if you have a big family and are looking for a nice restaurant that won't put a hole in your pocket, then go to Mi Jalisco's.
Leave a Comment