LC Swimmers Break 2013 Record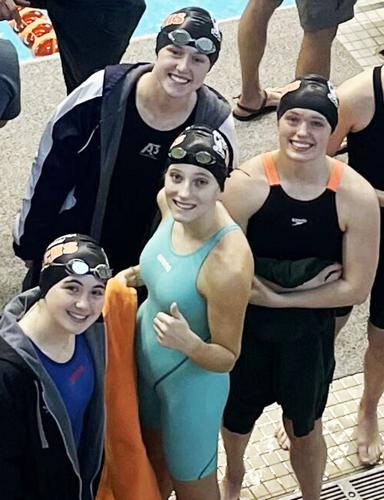 The 400-yard Freestyle Relay is considered a staple in high school swimming. It's also known as one of the most tense and challenging relays, as it contains the fastest stroke, Freestyle. Here's the catch– it's also double the length of a regular relay. This can present a challenge, as you are going at top speed for a longer amount of distance. This season, the 4×100 relay made a big splash; not only did our swimmers place fourth in the City Championships, but they also broke a 10-year school record.
1st Leg, Eleanor Sims (12): Being chosen as the first leg of the relay is always taxing, as it's described as the true "make or break it" moment of the race. It takes a cool head, and as Lenoir City's lead-off swimmer, Sims rose to the challenge.
"I was so excited when we broke the record for the relay. I was so proud of my team and how fast they were. Everyone there always puts their all into everything and to see a reward for doing that was amazing. And the most exciting part was just us all cheering for each other. It was definitely a group effort to beat the time," Sims said.
2nd Leg, Allison Satterfield (12): The second leg of the relay is a vital position; it's one of high stress and tension. You are tasked with following up the greatness seen with the lead-off, and you have to deliver another powerful performance. Luckily, Satterfield did just that.
"I was thrilled about our relay's performance! We had such a supportive bond prior to that race, so breaking the record was just the cherry on top," Satterfield said.
3rd Leg, Taylor Chaney (10): As the third leg, you start to see some teams pull away. Setting up the final leg is integral to relay. You are tasked with either playing catch-up or holding off a contender in the next lane. In this case, Chaney took on this role with ease.
"I'm so happy that we [broke the record]. This year we had a really good group, and we're losing a bunch of good people this year. So I feel really happy that we were finally able to reach this goal," Chaney said.
4th Leg, Emily Dubes (10): And, finally, the fourth swimmer to enter the water is known as the anchor, and this comes with a heavy responsibility. This person must finish off the relay truly fast. It all comes down to this last leg. Every swimmer has been an anchor at some point, but no one can finish a relay quite like Dubes.
"I'm really proud of us. I think it's something we've been working towards, and we finally got it! So, it was really rewarding, especially to beat it with some of my closest friends," Dubes said.
Overall, it is evident that these girls truly have a gift. Not only did they break one record, but they also came close to breaking two additional records, as well (the 200-free and the 200-medley). As they continue to grow and gain momentum, Lenoir City will forever be proud of these swimmers and their efforts.