100 Days of School Gone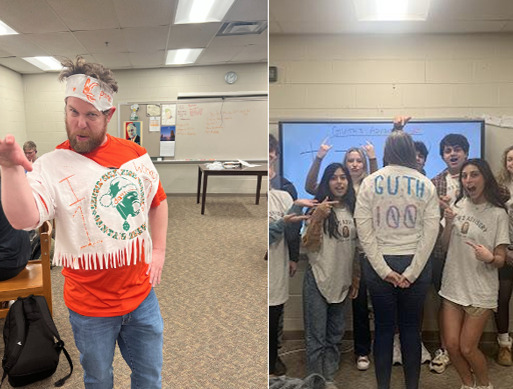 Friday, January 20th marked the 100th day of school at Lenoir City High School. To celebrate this milestone, students had the opportunity to purchase food from various food trucks. There were multiple food options such as barbeque, snow cones, tacos, and other assorted desserts.
Lenoir City sophomore Kyra Grason shares her experience with the food trucks.
"I got a bowl of ice cream from sugar rush and some fried oreos. It was pretty good, and I didn't wait too long, which made it better," Grason said.
On top of this, there was also a t-shirt competition between competing advisory teachers. The teachers involved in the competition were Mrs. Guth, Mrs. Busch, Mrs. Tyler, Dr. Johnston, Mrs. Crabtree, Mr. Baldwin, Mrs. Hammett, Mr. Correa, Mr. Harris, Mrs. Cunningham, and Mrs. Henderson.
On January 24th, the winners were announced. Mrs. Guth and Mr. Baldwin ended up tying for first place. The winning advisories had one big secret: teamwork. They worked together to create a great t-shirt design for the 100th day of school.
"It was a great team effort. The students came up with the concept and executed it excellently," Baldwin said.
Mrs. Guth saw the competition in a similar way. She has a close bond with her class, and she used it to her advantage.
"We were really excited. It was an honor to win alongside all of the seniors," Guth said.
100 days might seem like a milestone not worth mentioning, but it is a huge chunk of the school year gone. There is a lot that can happen in that time span, and it is important to have events – even if they are small – to help unwind after 100 days.