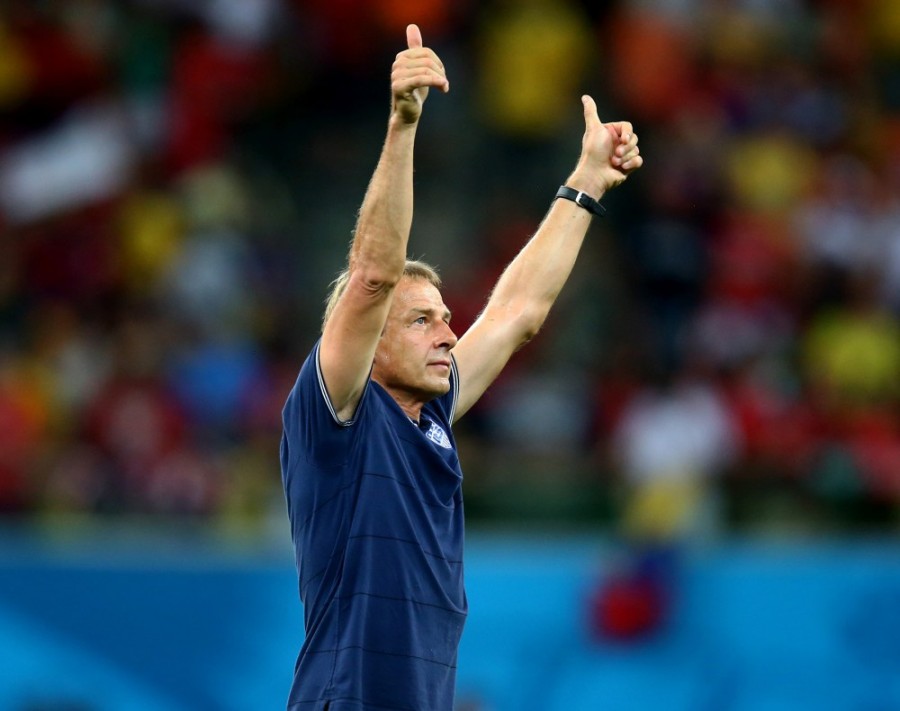 USA Today Sports
To those of you that aren't familiar with the world of soccer, something big happened for the sport domestically.
Prior to the United States Men's National Team's (USMNT) game against Honduras in Boca Raton, Florida, their coach, Jürgen Klinsmann, made some controversial comments in regard to the United States' domestic soccer league, Major League Soccer (MLS).
In his comments, he showed his desire for a promotion relegation system in US soccer. He also gave his opinion on the moves of Clint Dempsey from Tottenham, a Champions League challenger, to the Seattle Sounders, and Michael Bradley's move from Roma, a Champions League regular, to Toronto F.C.
"It's going to be very difficult for [Dempsey and Bradley] to keep the same level that they experienced at the places where they were. It's just reality. It's just being honest," Klinsmann said, "[For Bradley], making that decision going from Roma – a Champions League team to Toronto that now seems like they are not even qualifying for the playoffs – it is a huge disappointment.''
He went on to say, "This league is getting better and stronger every year, which we are all very proud about, and I want everyone to grow in this environment, but the reality also is that for both players, making that step means that you are not in the competitive environment that you were in before. … It's just reality, just being honest."
In response to Klinsmann's comments, the League's commissioner, Don Garber, released a fairly inflammatory statement: "Jurgen's comments are very, very detrimental to our league," he said. "They're detrimental to the sport of soccer in America and everything we're trying to do north of the border. And not only are they detrimental, I think they're wrong."
He continued to jab at Klinsmann saying, "I believe that Landon [Donovan] should have been in Brazil, not because he earned it or deserved it, but because his performance dictated it," Garber said, "And if anybody disagrees with that, and some of you might — clearly Jurgen does — then I believe that his treatment was inexcusable."
I, like others, find Garber's statement a huge, exaggerated response to Klinsmann's frank, but completely correct statements.
Klinsmann's interests are in having a good team. Garber's are in making money. For Klinsmann to have a good team, the players need to play in Europe with top levels players, and for Garber to make money, the league has to have the poster children of United States soccer.
Which one sounds better?
Garber eroded the validity of his argument when he elaborated on the earlier Klinsmann comments. "I don't know what possibly could have motivated Jürgen to so publicly criticize Michael Bradley and ultimately Clint. It is concerning to me that it seems to be following a pattern that began with his criticism of Landon [Donovan].
Did any of what Klinsmann said about Dempsey or Bradley sound offensive?
If you still align with Garber, his statements about Klinsmann's job security will sure change your mind.
"Sunil [Gulati] (the president of United States Soccer Federation) is one my closest friends," Garber said, "The partnership we have with him has led to the league that we have today. I'm confident that he will understand and accept the severity of what is happening here, and insure that [Klinsmann] is in line with the vision that he has publicly stated."
To me, that says, 'If you don't do what I want, I'm gonna tattle and get you fire.' That Garber statement shatters any credibility he had, and reveals his real motives. Any sort of threat, cleverly worded or not, is not what a respectable organization like United States Soccer Federation (USSF) needs. People like Garber inhibit soccer's growth in America and does not set a good example for the generation of children wanting to play soccer.
Once again, this Garber v. Klinsmann battle goes back to same old, classic plot: Selfishness vs. selflessness. However, considering Klinsmann's nationality and the extreme pride of this nation, it becomes hard to cut the cookie that way.
It may not sound like it, but I don't have the same crush for Klinsmann that Garber has for Donovan. There's some improvements I believe need to be made to grow soccer that have not been suggested. Here's my guide:
Bass's guide to grow US Soccer
Prove our talent: In order to grow the MLS, the league's stars have to be the world's stars. In order for that to happen, the USMNT need to finish top 5 in the 2018 World Cup. In the process of achieving that, the broad base of mainstream athletes will respect soccer more and feel more inclined to play.
Have a BIG name: I know I said this (kind of), but the US needs a star that can be looked up to and liked outside of the US, perhaps on the worlds biggest stage, the UEFA Champions League (see http://goo.gl/FCFp6a). Players that have that potential include Julian Green of Bayern Munich (on loan at Hamburg SV) who scored late goal against Belgium in the 2014 FIFA World Cup, Joe Gyau who makes constant appearances for injury riddled Borussia Dortmund, and maybe most exciting, Gedion Zelalem who plays for Arsenal F.C.. Of late, Zelalem has gained notoriety for his impressive passing. He's so good that experts are projecting(with more size) competition with World Cup winning midfielder Mesut Özil if  his form remains poor. The only catch is Zelalem only has 3 months to become a US citizen, or he will have no option but to play for great ole Deutschland.
Enable the MLS a little more: There are a number of reasons of reasons why the MLS slows itself down, but these are the main ones:
IMPROVE THE SALARY CAPS: I understand the American motto of 'everyone having a chance', but teams will never be able to sign talents in their prime if they don't give teams enough room to hand out competitive contracts(they make enough revenue)
Institute Promotion/Relegation: If you are still stuck on the American motto, this is for you. Most MLS teams make good money. Not because they deserve it, but because they have the "1st Division" title. If you look at teams in the 2nd Division, National American Soccer League (NASL), or 3rd Division, USL Pro, you'll notice they beat MLS teams OFTEN. The difference in talent between an NASL team and an MLS team is far smaller than a Barclays Premier League team, and a team in the FL Championship. (Ex: Carolina Railhawks vs. LA Galaxy http://goo.gl/tt4gW)
Improve Transfer System: To my frustration (and many others), in August, Jermaine Jones, US Holding Midfielder, was awarded a transfer to the New England Revolution. In spite of working a lot harder, the Philadelphia Union were not awarded. Since both clubs wanted him, and nothing is ever simple in the MLS, there was a 50/50 blind draw for Jones. This inhibits the league perhaps more than any other aspect.
Klinsmann's statement may have been rough, but it's true. Yes, Garber has the right to defend the league, but there is no place in United States Soccer, let alone United States' sports for threats. I dearly wish the MLS will take my advice, and continue to grow, but regardless, that will take some time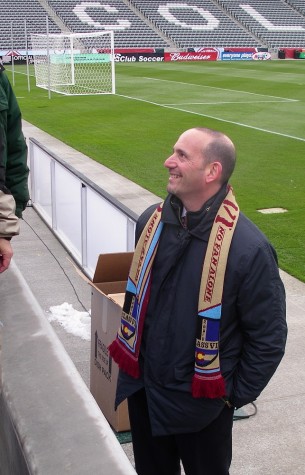 Commons.Wikipedia.org